Birdman – Film Wins Four Oscars …
Birdman – Film Wins Four Oscars … It stars Michael Keaton, with a supporting cast of Zach Galifianakis, Edward Norton, Andrea Riseborough, Amy Ryan, Emma Stone, and Naomi Watts. The story follows protagonist Riggan Thomson, a faded Hollywood actor famous for his role as superhero Birdman, as he struggles to mount a Broadway adaptation of a short story by Raymond Carver.
Riggan Thomson (Michael Keaton) is a washed-up Hollywood actor famous for playing the superhero Birdman in blockbuster movies…he hallucinates a conversation with Birdman, who tries to convince him to make another Birdman film, and sees himself flying through New York City back to the theater. (onstage. He earns a standing ovation)
The film won four Academy Awards for Best Picture, Best Director, Best Original Screenplay, and Best Cinematography.
–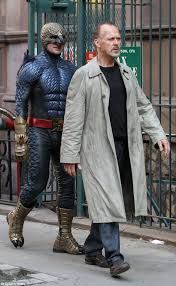 –
It was filmed in New York City during the spring of 2013 with a budget of $16.5 million, jointly financed by New Regency and Fox Searchlight Pictures. The film premiered the following year in August where it opened the71st Venice International Film Festival.
Birdman was given a limited theatrical release in the United States on October 17, 2014, followed by a wide release on November 14, and has grossed more than $76 million worldwide.
Michael Keaton as Riggan Thomson, a washed-up actor who played the superhero Birdman …
Elements that we focused on were the belt buckle and the wristband that he wears and he's got a little piece of gold bling on his beak …
–
–
Michael Keaton

as Riggan Thomson, a washed-up actor who played the superhero Birdman.
Michael John Douglas (born September 5, 1951), better known by his stage name Michael Keaton, is an American actor, producer, director, and comedian.

Keaton first rose to fame for his comedic film roles in Night Shift (1982), Mr. Mom (1983), Johnny Dangerously (1984) andBeetlejuice (1988), and he earned further acclaim for his dramatic portrayal of Bruce Wayne / Batman in Tim Burton'sBatman (1989) and Batman Returns (1992). Since then, he has appeared in a variety of films ranging from dramas and romantic comedies to thriller and action films including Clean and Sober (1988), The Dream Team (1989), Pacific Heights(1990), Much Ado About Nothing (1993), My Life (1993), The Paper (1994), Multiplicity (1996), Jackie Brown (1997), The Other Guys (2010), Need for Speed (2014) and RoboCop (2014), and also provided voices for characters in the Pixarfilms Cars (2006) and Toy Story 3 (2010).
Keaton's critically praised lead performance in Birdman (2014) earned him a Golden Globe Award for Best Actor in a Musical or Comedy, the Critics' Choice Award for Best Actor and was nominated for a Screen Actors Guild Award, British Academy Film Award and Academy Award for Best Actor. He previously received a Golden Globe nomination for his performance in Live from Baghdad (2002) and Screen Actors Guild Award nomination for The Company (2007). Keaton was awarded a Career Achievement Award from both the Hollywood Film Festival and Zurich Film Festivals.
Michael Keaton lead performance in Birdman
Directed by
Alejandro G. Iñárritu
Produced by

Alejandro G. Iñárritu
John Lesher
James W. Skotchdopole

Written by
Starring
Music by
Antonio Sánchez
Cinematography
Emmanuel Lubezki
Edited by

Production
companies

M Productions
Le Grisbi Productions

Distributed by
Fox Searchlight Pictures

Release dates

August 27, 2014 (Venice)
October 17, 2014

(United States)

Running time

119 minutes
Country
United States
Language
English
Budget
$16.5 million
Box office
$76.6 million
Michael Keaton
Hollywood OSCARS 2015
Michael Keaton
BIRDMAN MOVIE
Michael Keaton as Riggan Thomson, a washed-up actor who played the superhero Birdman.

Michael Keaton a "Birdman"

All of the movie takes place in or around The Saint James Theater –

I came to see characters faced with challenges to share. I came to see something in them I could empathize with.

There is a fresh technique that the cinematographer, Emmanuel Lubezki, displays which does add a more flowing sense of time to sequences of this movie.



To show how hard it is for an iconic hero to re – invent himself to act on stage

Of course, there is the mania that we see going on in the mind of Riggan – and how it drives him crazy at times and then motivates him to some great acting.

Part of this film is to show how Riggan battles with the challenge of getting his play rehearsed with all the actors, intrigues and stress – as opening night approaches. Edward Norton plays Mike Shiner – who's a cocky competent pain – who both adds and subtracts from his chances of putting on the play. Other people are Naomi Watts – who portrays Lesley and is grateful for the chance to be in a Broadway play. Riggan has help from Zach Galifianakis who is his stage manager – as well as his lawyer and the close friend whom he trusts. Emma Stone plays Riggan's daughter.






Michael Keaton as Riggan Thomson, a washed-up actor who played the superhero Birdman.

Michael Keaton as Riggan Thomson, he has an alter ego deep in his mindset that is none other than the actual Birdman whom he once played. This alter ego haunts him and taunts him with barbs – insulting his present desire to act on Broadway and forsake his iconic superhero celebrity. Another thing we have to deal with is that this guy has powers to levitate himself and cause objects to come crashing down from his simplest thought.


… A once well – known and idolized film hero by the name of Riggan Thomson – after a few decades of inactive film making – (He had played Birdman but had grown sick of that role and the effect it had on his well – being.) – was now trying a comeback in a more "legitimate" way by writing a play – directing and starring in it – with the hope that Broadway would give him the acclaim he desperately sought. Mind you, he is putting his own cash on the line to make sure this play gets performed. He's taken a play already in the public domain and has adapted it to fit his own psychology.
The play is put on; and Riggan does something that has no artistic merit, but does propel him to ravishing reviews and acclaim. Yet, the last scene shows him – as I see it – reverting back to his superhero persona (in his mind).



We follow the camera and the scenes – along the corridors down the halls, on the stage, out on the street, and on the roof. This is all pretty cool –

When a man sets out to do something that he's not equipped to do (in other words he's ignorant) but somehow he succeeds against difficult odds (and what he tried to accomplish, no man would try to do who had any knowledge about the thing) then one might say, "His ignorance was an unexpected virtue"… He gained from it.



Is Birdman one that you should see? I'm going to let you grade it. It may, thanks to others' opinion – difference – rate some kind of Academy Award; and I would not want you to feel bad in missing it – thanks to this review… Be that as it might be – with all things considered –

this Birdman film…




What Your Grade for the film Birdman?




8.) "About as good as it could get."




7.) "Lacking that bit of excellence."




6.) "Somehow it just didn't work well."




5.) "I have to feel bad about it."




4.) "All that work and nothing to show."






Birdman – Or The Unexpected Virtue Of Ignorance – A New Film Review –