Disney Movies Storytelling
A video game titled Despicable Me: The Game was released for the PlayStation 2, PlayStation Portable and Wii. ANintendo DS version was released under the name Despicable Me: Minion Mayhem. Namco also released a version for the iPhone and iPad platform entitled Despicable Me: Minion Mania, developed by Anino Games. An application for iOSsand Androids was also released under the name Despicable Me: Minion Rush. It was developed by Gameloft and
made available to the public in 2013.
Box office
Released on July 9, 2010, in the United States, Despicable Me opened at the number one spot at the box office and pulled in $56.3 million, making it the third biggest opening grossing for an animated film in 2010 behind Toy Story 3 and Shrek Forever After…
it surpassed
Shrek Forever After
to become the second highest-grossing animated film of 2010 in the United States and Canada, behind
Toy Story 3
.
It was also the highest-grossing non-DreamWorks/non-Disney·Pixar animated film of all time in these territories, since overtaken by its sequel.
The film has made $251,513,985 in the United States and Canada as well as an estimated $291,600,000 internationally for a worldwide total of $543,010,705, against its $69 million budget.
This film is also Universal's sixth highest-grossing film (unadjusted for inflation)
and the tenth-highest-grossing animated feature of all-time in North America.
In worldwide earnings, it is the sixth biggest film of Universal Studios,
the fourth highest-grossing animated film of 2010 trailing
Toy Story 3
,
Shrek Forever After
, and
Tangled,
The 25th highest-grossing animated film of all time and the 9th highest-grossing film of 2010
Minions Talking Smile Conversation Happy
Minion Dave is the perfect gift for fans of Despicable Me
Good Storyteller Eager To Entertain
Make 'someone else' Smile
Improve Your Social Storytelling Technique

How would you describe the ideal party? For me, the ideal party is populated with people eager to entertain. In my opinion, meeting someone at a party who is a good storyteller is like finding lost treasure. Wouldn't it be great if everyone you met at a party told you an entertaining story?
How You Can Become a Great Storyteller
Ideally, you want to take responsibility for making someone else's evening enjoyable by telling them a funny, interesting story. Me? I could never be a great storyteller, you may be thinking. Yes, you can. Everyone has at least one great story that they could tell. Most people have lots but lack the confidence to tell those stories. Storytelling is a gift that we give to others. You don't have to be born with a special talent. You only need to have the desire to make someone else smile. The truth is that storytelling is a skill that may be learned and improved by practicing.
Identifying a Great Story
Put simply, a great story consists of a three fundamental elements: a beginning with a clearly defined goal, a middle outlining the obstacles that stand in the way of success, and an ending that describes that which was accomplished, achieved or overcome in order to reach the desired goal. Regardless of the topic, these three elements constitute the essence of a story.
Once you've chosen a story that includes these elements, you can go about filling in the essential details that make your story memorable, interesting and/or funny.
Creating the Story
Choosing which and how many details to include is the tricky part. Storytelling falls short when the speaker fails to weed out essential details from tedious minutiae. Only include in your story the details that are necessary to move the story forward. Does it matter to your story what time of day you ran into your long lost high school sweetheart? Probably not. Leave that detail out. Focus on the important parts of your story and leave the boring bits out. Remember, you want to tell a story that captures people's imagination. Leave out some of the details so that your listener's imagination has something to do.
Just the Facts
At the beginning of this post I talked about being entertained. As a storyteller, you're an entertainer not the fact checker at Encyclopedia Britannica so don't let a few facts get in the way of a good story. Am I advocating telling bare-faced lies? Not at all! However, don't be afraid to embellish. "That fish must've weighed 50 pounds!" Really? Fifty pounds? Likely not and your listener knows that because of the sparkle in your eye. It's part of the fun.
The Emotional Core
A successful story is emotionally moving. You want your listener to feel an emotional connection to your story. You probably don't want to move your listener to tears but you probably do want to make them laugh. That will only happen if they've become convinced that the goal you identified at the beginning is worthy and if they can identify with your desire to obtain it.
Storytelling Technique
Expert oral storytellers make use of dramatic timing. Not the "dramatic" type? You don't need to be. But you do need to understand dramatic timing. For example, even the most taciturn storytellers will benefit from including a pregnant pause in their stories. There's a rhythm to the way in which good storytellers let their stories unfold.
Practice, Practice, Practice
Now that you've chosen which story to tell, decided on the essential details, relaxed a little about facts, found your story's emotional core and given some thought to dramatic timing, take the time to practice telling it. Tell your story to your spouse and/or your best friend. Practice, practice, practice. Then tell it with confidence.
Remember, your listeners are hoping to be entertained. They want you to succeed. So, relax and have fun.
Researched marketing and communications packages that promote, publicize, motivate and inspire. To learn more visit
what do toys do when they're not played with? Cowboy Woody (voiced by Tom Hanks),
3D film & Pictures,
Watch Despicable Me 2 videos, clips and trailers, get Despicable Me 2 wallpapers and images, news, gossip and more with Despicable Me 2 FanApp.
Despicable Me 2 is a 2013 American 3D computer-animated action comedy film and the sequel to the 2010 animated film Despicable Me. Produced by Illumination Entertainment and distributed by Universal Pictures, both films are directed by Pierre Coffin and Chris Renaud, and written by Cinco Paul and Ken Daurio. It is the first film by Illumination Entertainment to be a sequel. Steve Carell, Russell Brand, and Miranda Cosgrove reprise their roles. Kristen Wiig, who played Miss Hattie in the first film, voices agent Lucy Wilde. Ken Jeong, who played the Talk Show Host, voices Floyd Eagle-san. New cast members include Benjamin Bratt as Eduardo (aka El Macho) and Steve Coogan as Silas Ramsbottom, head of the Anti-Villain League (AVL). The film premiered on June 5, 2013 in Australia, and was theatrically released in the United States on July 3, 2013. The film has received positive reviews and has become a massive box office hit by grossing over $918 million against its budget of $76 million.
A spin-off film, Minions, focusing mainly on the little yellow henchmen before they met Gru, is set to be released on July 10, 2015.
This is an unofficial app for fans and is not affiliated with or endorsed by the subject.
There is genius that is right in front of our faces–you smile as you are refreshed,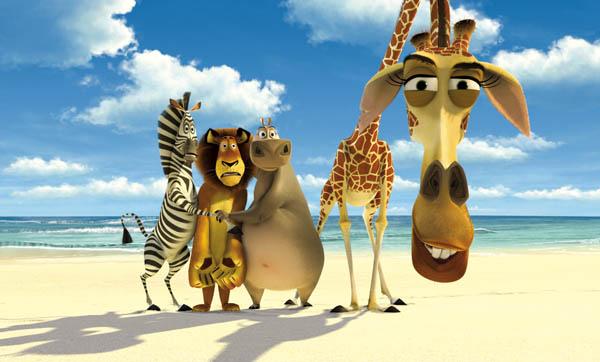 Madagascar
Melman the giraffe. Gloria the hippopotamus. Alex the lion. Marty the zebra.
As a cub, Alex the Lion was called Alakay and was the son of Zuba, the alpha lion. Though Zuba tries to teach Alakay to be a hunter, the cub is more interested in dancing, and is captured by poachers when Makunga, Zuba's rival, challenges Zuba to a fight for the position of alpha lion. Alakay is forced into a crate, and taken away despite Zuba's attempts to rescue him. The crate falls into the ocean where it drifts to New York. There, Alakay is renamed Alex and sent to the Central Park Zoo where he grew up, meeting Marty the Zebra, Melman the Giraffe, and Gloria the Hippopotamus.
Madagascar Spoiled by their upbringing with no idea what wild life is really like, four animals from New York Central Zoo escape, unwittingly assisted by four absconding penguins, and find themselves in Madagascar. Madagascar: Escape 2 Africa The animals try to fly back to New York City, but crash-land on an African wildlife refuge, where Alex is reunited with his parents. Madagascar 3: Europe's Most Wanted Alex, Marty, Gloria and Melman are still fighting to get home to their beloved Big Apple. Their journey takes them through Europe where they find the perfect cover: a traveling circus, which they reinvent – Madagascar style.
Toy Story 1-3 Box Set [Blu-ray] Disney Movies & TV
[Blu-ray] TV and Movies
This kind of entertainment is what they call "movie – irresistible computer animation feature;
*Just a picture of these bright toys on the cover of Toy Story looks intriguing as it reawakens the kid in us.
*Filmmaker John Lasseter's shorts illustrate not only a technical brilliance also a great sense of humour–one in which the pun is always intended.
*Lasseter thinks of himself as a storyteller first and an animator second, much like another film innovator, Walt Disney.
Lasseter's story is universal
*what do toys do when they're not played with? Cowboy Woody (voiced by Tom Hanks),
*Andy's favourite bedroom toy, tries to calm the other toys (some original, some classic)
*party, when newer toys may replace them. Sure enough, Space Ranger Buzz Lightyear (Tim Allen) is the new toy that takes over the throne.
*Buzz has a crucial flaw, though–he believes he's the real Buzz Lightyear, not a toy.
*Bright and cheerful, Toy Story is much more
*the inevitable bonanza of Woody and Buzz toys.
Lasseter further scores with perfect voice casting, including
*Don Rickles as Mr. Potato Head and Wallace Shawn as a meek dinosaur.
*The director-animator won a special Oscar "For the development and inspired application of techniques that have made possible the first feature-length computer-animated film".
*In other words, this movie is great. –Doug Thomas Toy Story 2 John Lasseter and his gang of high-tech creators at Pixar
*create another entertainment for the ages;
VIDEO Gaming!
xbox gaming
Xbox 360 Controller is the primary controller for Microsoft Xbox 360 console and was introduced at E3 2005. The Xbox 360 controller comes in both wired and wireless versions. Original Xbox controllers are not compatible with the Xbox 360. The controller is also compatible with PCs, like Windows Vista, 7 and 8; the wireless version requires a Wireless Gaming Receiver. The wireless controllers run on either AA batteries or a rechargeable battery pack. The wired controllers may be connected to any of the USB ports on the console, or to an attached USB hub. The Xbox 360 controller does not provide a standard USB Human interface device software interface, but is designed for the Microsoft XInput interface library. Although many PC video games support the XInput library, some games might not work with this controller. wireless controllers are available in numerous different colors including:
White controllers were bundled with the Arcade and Pro consoles; also sold separately.
Black controllers came with the Elite to match the case; also sold separately.
Dark Blue controllers were released in October 2007 (US only)
Light Blue controllers were released in October 2007 (Europe and Japan only)
Pink controllers were also released in October 2007.
Black S and White S controllers are bundled with Xbox 360 S consoles.
Xbox 360 Controller (section Wireless Gaming Receiver) The Xbox 360 Controller is the primary controller for Microsoft Xbox 360 console … comes in both wired and wireless versions. Original Xbox … Xbox Live (redirect from Achievement (Xbox 360)) Xbox Live (trademark ed as Xbox LIVE) is an online multiplayer gaming and digital … became available for the Xbox 360 console at the … List of Xbox 360 accessories (redirect from Big Button Controller) The Xbox 360 game console , developed by Microsoft , features a number of first- … Xbox 360 Wireless Racing Wheel: Image:Xbox360wirelesswheel. … History of video game consoles (seventh generation) (redirect from PS3 vs. Xbox 360) the Xbox 360 offers wired controllers as a standalone product, all PlayStation 3 controllers can be used in wired and wireless configurations. … Xbox 360 The Xbox 360 is a video game console developed by Microsoft , and is the successor … including wireless controllers , expanded hard drive … Xbox (section Xbox 360 Controller) The Xbox is a video gaming brand created by Microsoft . … Microsoft's second console, the Xbox 360 , was released in 2005 and has sold … Xbox (console) (section Controllers) The Xbox is a video game console developed by Microsoft . It was released … Xbox's successor, the Xbox 360 , was launched in November 2005. … Xbox 360 Wireless Headset The Xbox 360 Wireless Headset is a wireless headset designed for the Xbox 360 and … technology as the Xbox 360 Wireless Controller, so it … Gamepad (redirect from Xbox Gamepad) A gamepad (also called joypad or control pad), is a type of game controller held … wireless pad with the Xbox 360 Wireless Receiver for … List of Xbox 360 retail configurations The Xbox 360 video game console has appeared in various retail configurations … hard disk drive and two wireless controllers on special … Xbox 360 Wireless Racing Wheel The Xbox 360 Wireless Racing Wheel was developed by Microsoft for the Xbox 360 and … feedback steering wheel controller includes the … Xbox 360 technical specifications The Xbox 360 technical specifications describe the various components of the Xbox … Ethernet connector or an optional wireless network adapter. … Video game console and HD DVD supported by the Xbox 360 via an optional $200 external … Also, all seventh generation consoles support wireless controllers. … Test Drive Unlimited (section Xbox 360) Following the third free update, Test Drive Unlimited supports force feedback wheel controllers such as Microsoft's Xbox 360 Wireless … PlayStation 3 accessories (redirect from Wireless Controller (SIXAXIS)) The controller uses a Nickel-metal hydride battery or two AA batteries (in a similar fashion to the Xbox 360 Wireless Controller ). … Zune (section Xbox 360) and tablets , Xbox 360 game console, and Windows Phone smartphones. … Wi-Fi | Zune-to-Zune, sync with computer / wireless network / … PlayStation (section Controllers) controllers, two handhelds and a phone, as well as multiple magazines. … function to the Xbox 360 "Guide" button) was included on controllers. … Xbox 360 launch The Xbox 360 launch marked the release of the first high-profile seventh … a Faceplate, Wireless Controller, promotional DVD, and … Scene It? Lights, Camera, Action (redirect from Scene It? xbox 360) DVD-based party game of the same name exclusively for the Xbox 360 . … bundled with four special wireless controllers called Big Button Pads … Xbox Live Arcade Unplugged (section Xbox 360 Triple Pack) Xbox Live Arcade Unplugged is a series of Xbox 360 Games released which allow the … compilation was packaged with a black wireless controller. …
Video games!
Click here for Details:
Video Game Jobs
1'000's Of Real Video Game Tester Jobs Updated Daily.
Video Game Tester Jobs | Get Paid To Play Video Games.
Little Tikes Easy Score Basketball Set
Raise the height to increase the challenge as kids grow and improve
Introduces kids of all abilities to the game of basketball
Despicable Me Steve Carell
Despicable Me
In a happy suburban neighborhood surrounded by white picket fences with flowering rose bushes, sits a black house with a dead lawn. Unbeknownst to the neighbors, hidden beneath this home is a vast secret hideout. Surrounded by a small army of minions,
Release date

:

July 9, 2010 (USA)

Directors

:

Pierre Coffin

,

Chris Renaud

Production company

:

Illumination Entertainm

A video game titled Despicable Me: The Game was released for the PlayStation 2, PlayStation Portable and Wii.

A Nintendo DS version was released under the name Despicable Me: Minion Mayhem.

Namco also released a version for the iPhone and iPad platform entitled Despicable Me: Minion Mania, developed by Anino Games.

An application for iOSs and Androids was also released under the name Despicable Me: Minion Rush. It was developed by Gameloft and made available to the public in 2013.




Despicable Me was released on DVD, Blu-ray, and Blu-ray 3D on December 14, 2010. The release included three new short films, titled Home Makeover, Orientation Day and Banana.